Got a Minute? Make Anne's Sparkling Seas Crystal Charm Bracelet 
We love this idea! So simple and so pretty! Anne took one of our
 ready-to-wear aqua crystal rondelle bracelets 
SKU 430.2 and simply added a few of our new 
sea themed charms
 with some of our 
jump rings
 and came up with this 
wonderful summertime charm bracelet.
A Few of our Favorite Things Charm Bracelet
One of our newest, most favorite customer requested items is our
 1151 Charms Mega Mix.
 Becky made a nearly instant charm bracelet by using our already assembled chain maille bracelets and attaching a few 
Mega mix charms 
with just a few
 jump rings
. There are SO many themed charms in each package - it's easy to whip up a themed bracelet of your own in very little time.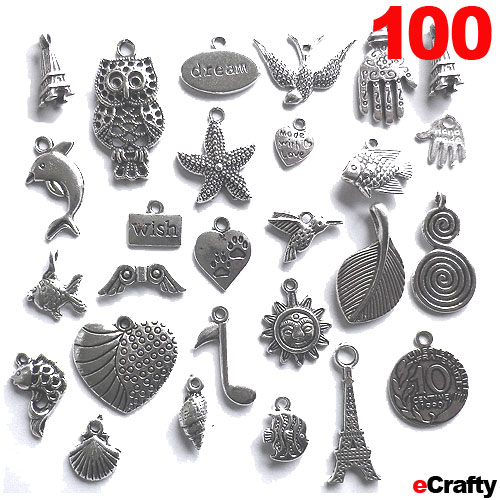 eCrafty Charms Mega Mix 
Over 100 high-quality lead, cadmium and nickel-free charms sure to be a hit for quick jewelry and crafts. Great idea for troops, groups or girls' night. 
See ALL of our Mega Mix items here
Summer Seas Wrap Bracelet 
Here's what our friend Shenoa made with some of our   
sparkle
, 
 water-color 
and color-themed 
sparkling rondelle mix beads
 on 
memory wire
. Just make a simple loop to finish each end. A great project to share with beginning crafters!
Pop Art Zebra Stretch Bracelet 
Look what our friend Becky whipped up with our new 
resin zebra beads 
and a few 
chunky lampwork
 cubes
! So cute! These beads also fit well on our 
1240Z ball chain necklaces
 (as do several styles of our new resin beads). 
See all of our resin beads here:
Coral Sunset Sparkle Bracelet 
Shenoa took the same bead combination ( our 
sparkle
,
 water-color 
and color-themed 
sparkling rondelle mix beads
)  as in the memory wire bracelet above and strung an easy breezy mixture on our add a bead bracelet cuff. Very easy - really pretty!
Make Easy Message Jewelry with our New Alphabet Beads
Here's an easy idea for crafters of all ages - use our new natural wood beads on our 1240Z ball chain necklaces to spell out your favorite inspiring phrase, your best friend's name, monograms, funny phrases, etc. Here we used our new 
1216 natural wood alpha beads
 on a 
simple ball chain necklace
. You can easily add larger holed bead from our 
1155 Bali Bead Mix
 to dress it up.
How to Make a Chain Maille & Pearls Bracelet
I love this tutorial from 
Saved by Love Creations
 - we are sharing it here for you to try. This is actually a VERY easy process - whether you make earrings, bracelet or both -
eCrafty.com has Mega Mixes of both 
1501Q Silver Jump Rings and White or Ivory Pearls 
- plenty to experiment with to get the look you'd like.
SAVE 20% through May 30 at eCrafty.com! 
Use our newsletter code MAY2013 for 20% off everything in your cart,every time you shop at eCrafty.com through the end of May. Never miss another coupon code!
Sign up for eCrafty.com's newsletter alerts here:
http://www.emailcontact.com/archive/view/2509/25394