We've replicated the look of trendy hand-stamped metal jewelry here with just a few of our ready-made items in under a minute. Impossible? We think not! Read on!

1 Minute Gift: Start with any of our message/word charms, a jump ring, and a chain.

We selected our "Live, Laugh, Love" charm.




Open a jump ring like an "S: with 2 pliers, thread the open ring through your charm.




Lay our ball chain 1204Z across the opening.




Close the jump ring with your pliers again, forming a closed "O".
Voila! You are done. Make it pretty wi
th one of our organza bags or gift pouches
.
2 Minute Gift: To embellish, Anne added a simple crystal bicone dangle or other gorgeous crystal shapes. This dangle color could represent birth month/ birthstone color or the recipient's favorite color.


Load a headpin or eyepin with our 4mm or 6mm bicone mix and an optional 2.5 or 3mm smooth round silver spacer. Simple or wrap loop around end of your pliers and trim with nail clippers.


3 Minute Gift. To embellish more: Anne added another simple dangle, this time using our bali-style headpin and one of our 6mm or 8mm glass pearls mix.


We've included several more versions of this idea below. You can see all of our word and message charms here - we have many cute words and encouraging message charms and also some glass domes (use with our 1" glue-on pendant backs) starting at just .99 cents!


Add to any of our newest ball or snake chains or organza cords by the piece or 10 pack for a hand-stamped personalized and trendy look in just a few minutes.

Photo Bracelets ~ Ready to Give!
Use
our ready-made bracelet forms
to personalize a custom jewelry gift in very little time.
Our photo bracelets
are completely assembled, require NO glue, and include acetate protectors, extra laminating film, a little gift bag, and handy instructions.
See them all here.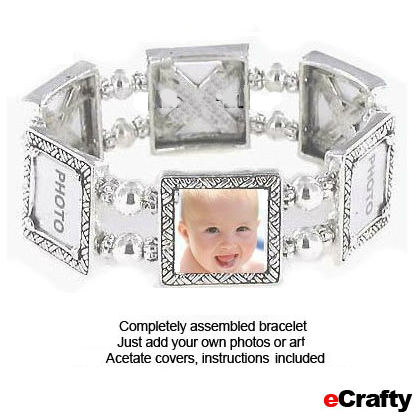 Crystal Beaded Snowflakes
Look what Hannah dreamed up with our newest clear
crystal beads
, our
eye pins
,
jump rings
and a little
3D Crystal Lacquer
!
I especially love that this project is very portable – you can bead up the individual pins just about anywhere – in front of your favorite TV show or Netflix movie, or at one of the kids' practices, and finish them (secure with jump ring, lay flat and glue middles together at home). You might even get some help from envious bystanders! (This has happened to me at more than one waiting room). There is no end to what friendly folks will volunteer to help you with when there's crafting going on!
Doodle Art Pendants or Key Chains with Bamboo Tiles
Make and Take!
Bamboo Domino Tiles
are a perfect project on the go ~ Grab an opaque marker and a few extra tiles - put them in a zip bag and tuck them in your backpack or purse. Next time you find yourself waiting around for the end of kids' practice, in the waiting room or between planes, get happy - it's your new bamboo tile doodling time!
Click here to see ALL of our newest arrivals! Save 20% with your subscriber coupon code NOV2012 in the COUPON box at the bottom of your CART page.
If you don't see the coupon box at checkout, just E-us info@ecrafty.com with the code or e-us with your ORDER number and code We'll apply your 20% savings as a refund to you when your order ships.
As always, have FUN, and happy creating! Hope to "see" you soon at eCrafty.com!