We're bringing you 
three
 fun and different ideas for our glue-on bracelet blanks. These samples were all made with our 
craft-quality bracelet blanks SKU 1450
1. Steampunk Dreams 
Anne made this cool mixed metals steampunk style bracelet from our 1450 basic craft bracelet base and our 1152 or 1159 
Fearless Crafter's Metal Stampings Mix
 with just a little dab of e6000 on the base and between the metal charm layers. Click photo for a closeup. This mix has so many fun options - lots of shapes and raw mixed metals to play with!
2. Button UP!
 Kim made this antique off-white mixed button bracelet with our same 
1450 craft bracelet base
 and our 
Vintage Buttons Mix in white
. She chose a trio of buttons from small to large for each landing pad and then attached them with e6000 adhesive. We also have a nice Vintage Buttons Mix in warm neutrals which would work great too. This is an great idea for kids to make for Mother's Day.
3. Say Anything
6-Tile Scrabble Bracelet
   Got 6 letters? Make some wearable art! Kim used our 
1410 Vintage Scrabble tile mix
and our 
1450 craft bracelet base
 along with a dab of 
e6000 adhesive
 for a nearly instant scrabble tile bracelet. Stuck for a word? 
Check out this link ~ tons of common 6-letter words
 you can use to create with! How we didn't think of CRAFTY I just don't know! :-) Blame it on the Holidaze!
New Year's Resolution Embellished Bottle Pendants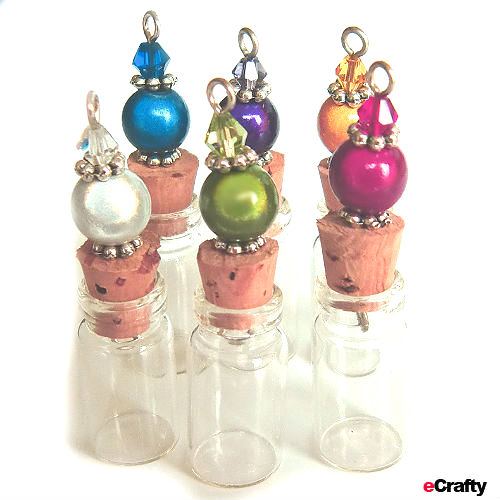 Fun and quick - using our 
1200L-10pack mini bottles
 and our eye pins, 
thread our bali spacer beads 1155
 on either side of our 
glass pearls 
~ top it off with a 
crystal bicone 
to make these New Year's Resolution Keeper Bottle or embellished Message in a Bottle pendants. If you'd like, fill with a personal message (New Year's resolution ~ "Stay Calm" "Have Fun" "Craft More" "Lose 10 Pounds" on a fortune cookie sized paper. Tie with twine. Optional fill with favorite beach sand or glitter .... just do it!  Hang from our 
cords and chains
 (many styles - snake chain or organzas are especially pretty combined with these) with a simple jump ring ~ These are EASY, cute and original little treasures!
DIY Beaded Eye Glass Leashes in Under 5 Minutes!

Hard to find but we've found it! 
Glass beads hand strung and linked on sturdy silver plated brass chain for beading, decorating, jewelry making, 
and near-instant eye glass leashes.
Sold by the yard, split in 2, makes (2) near instant eye glass leashes or 18" necklace.
You will need a few of our simple findings (
eye glass connectors
, 
jump rings
, possibly
 lobster clasps
) to finish.
You can also deconstruct this chain very easily to create indivual dangles or glass charms. Want to add a pendant or some charms? Basic chain fits bail and jump ring openings of 4mm and larger. Sold by the continuous yard - if you order (2) yards, we will send you a complete 72" inches of chain. Way too fun - you are just going to have to take our word on this one!