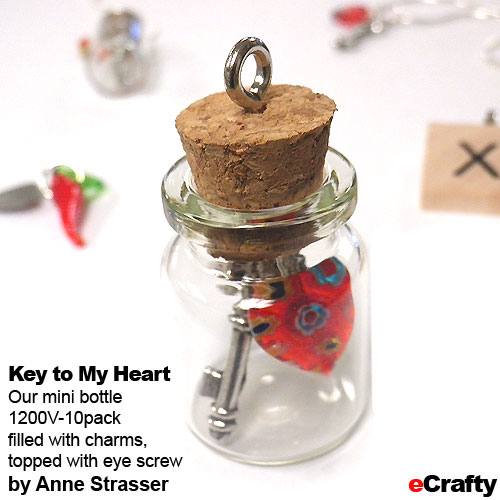 Love is in the air!
Here's some wearable Valentines you can make with supplies from
eCrafty.com!
Click on any picture for a closeup. We've included links to the products we used in each litte treasure. Happy creating!


1. Key to My Heart Encased in Glass
Shown above, Anne used our new WIDER
1200V-10pack
1" jug-shaped glass mini bottles to encase our key charm & millefiori heart in glass.
2. Key to My Heart Mini Bottle Necklace
Anne created this little gem from our
1200L-10pack-KIT
mini bottle eye screw kit, a trimmed
key charm 1611B
, and a
little millefiori red heart
dangle ~ our 1626 hung on a
1505z headpin
and looped at the top. Attached with our
jump rings 1501Q
to our customer favorites ~
one of our 1240W silver-plated brass snake chains
. .
3. Graffiti Love Pendant!
Anne made this glass heart pendant with a printout of her favorite
valentine, our 302H glass heart cabochons, a little 3D Crystal Lacquer, e6000 for the bail on the back, and one of our 1240z ball chain necklaces. She finished the glass cab with our transparent glass markers SKU 700. You could also use any opaque paint pen made for ceramic and glass.
4. Lace Hearts Doily/Doilie Glass Pendants and Magnets
This is one of those sleeper ideas that really surprised me! Pendant: Anne just took a paper doily,
glued/applied it to the back of our 302H-10pc glass heart cabochons with 3D Crystal Lacquer, trimmed the edges and added a bail (806A-10pack).
Lace Hearts Fridge Magnets:
Same process but add our
magnets
rather than a bail for cute fridge magnet set.
5. Scrabble Tile Pendants 123!
We put together a
step-by-step tutorial for simple scrabble tiles,
over at
our blog
- this is always a fun starter project - glue a
bail (806A-10pc)
to the back of a scrabble tile, add an epoxy cover if you want, embellish with a simple dangle or even add a photo.