5 Simple Gifts to Make in Under Five Minutes
We're bringing you five different gift ideas to make in UNDER 5 minutes - how's THAT for a good thing? No one will ever guess how little time they took ~ all are sure to be welcomed, personalized gifts!
Glass Dome Message Necklace
Anne's festive "Believe" necklace is shown here, made with our Believe domes SKU 413B-WORD10pc., our 20mm charm bases 1236-10pack, a few crystal bicones looped on headpins and trimmed with nail nippers, and a little e6000 to glue the word dome to the charm base. Hang from our ball chain necklaces, snake chains, or festive organza colored neck cords to finish.
Scrabble Tile Necklace in Under a Minute!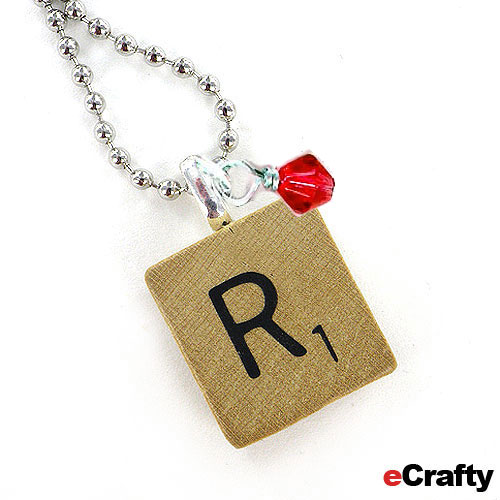 Look at this cute necklace made with our Vintage Scrabble Tile Letter - your choice, just .99 cents!,

Add our glue-on bails, hang from one of our cords or chains, add a snap bail and/or jump ring to suit your cord, and put it in a pretty organza bag - your gift is done. I told you this was easy!

3 minute version ~ add a bicone dangle in birthstone or favorite color. Thread our 4mm or 6mm bicones onto a headpin, wrap around a choptick or your round pliers, trim the overlap with nail nippers or your pliers.


5 minute version ~ Trim a photo or scrap, glue to scrabble tile. Seal with our instant epoxy domes (scrabble size).

Make a Festive Jewel-Topped Mini Bottle Pendant ~ Under 2 Minutes!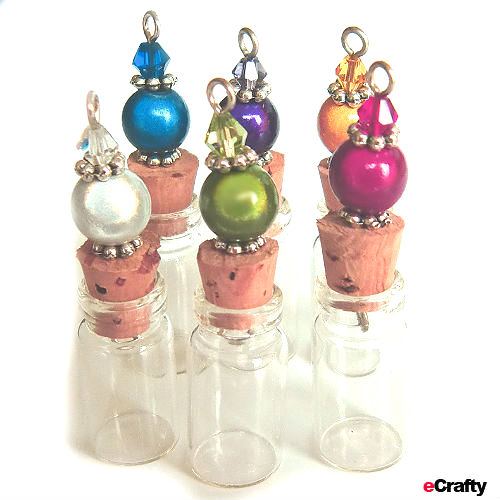 Fun and quick - using our 1200L-10pack mini bottles and our eye pins, thread our bali spacer beads 1155 on either side of our glass pearls ~ top it off with a crystal bicone to make these Genie Bottle or embellished Message in a Bottle pendants. If you'd like, fille with a personal message on a fortune cookie sized paper, or tie a little mini message of love inside. Fill with fairy dust. Favorite beach sand. Glitter .... just do it! Hang from our cords and chains (many styles - snake chain or organzas are especially pretty combined with these) with a simple jump ring ~ These are EASY, cute and original little treasures!

Personalized Message Necklace in 5 Minutes!

Use one of our Word/Message charms, attach with jump ring or snap bail to cord or chain. Embellish with one or two looped dangles ~ glass pearls, bicones, strung on eye pin, looped and trimmed.



Personalized Destination Necklace in Under 5 Minutes!



Got an armchair traveler or daydreamer on your list?

Make them a fantasy desitnation necklace. Feature their birthplace or favorite vacation spot or honeymoon location! How about their home town? Just Google the city or spot, ask for hybrid sattelite and map view, and print. Stick our 803N 1" square epoxy sticker to the crop you'd like, trim, and adhere to 1241-10PACK base with a little bit of e6000 or double sided tape a word or message charm, a mini bottle, a bicone dangle. The mini bottle can include wedding rice, a little note, a date. You get the idea!

Personalized Photo Bracelet in Under 5 Minutes!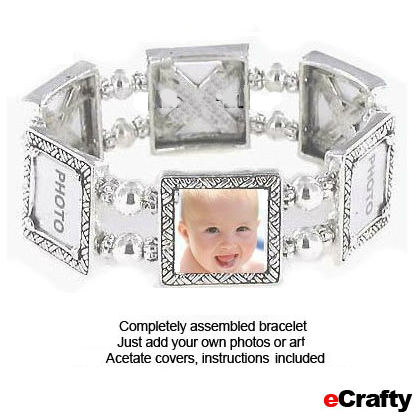 Use our ready-made bracelet forms to personalize a custom jewelry gift in very little time. Our photo bracelets are completely assembled, require NO glue, and include acetate protectors, extra laminating film, a little gift bag, and handy instructions. See them all here.

Instant Customized Snow Globe Fridge Magnets!

Our customer favorites return for the holidays!
Add a photo to the back of this pre-filled (already contains liquid and snowflakes!) 3" miniature magnetic snow globe frame. Magnetic, flat-backed, changeable! - great for the fridge or locker! Great little stocking stuffer, teacher gift, or quick gift topper.

DIY Glass Tile Heart Pendant
Use 3D Crystal Lacquer for print outs, or e6000 for real photos, apply a small amount of glue on back side of our heart glass dome. Press down firmly, wipe excess glue from edge. Trim carefully and let dry fully. Brush same sealer on back side of your glass dome and let dry fully again.

Add a glue on bail with e6000 and let dry fully again. Or, add a magnet for a really cute fridge magnet.

The "let dry" part of this project is the time consuming part. You might want to speed things along with a quick trip in a low-temp (250 degree) oven. (Not the microwave).

The "do it" part is just a minute or two per pendant. Our heart shaped glass is especially nice for photos.
Doodle Art Pendants or Key Chains with Bamboo Tiles
Make and Take! Bamboo Domino Tiles are a perfect project on the go ~ Grab an opaque marker and a few extra tiles - put them in a zip bag and tuck them in your backpack or purse. Next time you find yourself waiting around for the end of kids' practice, in the waiting room or between planes, get happy - it's your new bamboo tile doodling time!



DIY Button Jewelry



Here's two quick projects using a mix of new and old ~ We created this button jewelry trio using our vintage button mix in white/pearls, and e6000′d them onto our glue on ring, bracelet and pendant forms to make a whimsical, breezy jewelry trio. Click here for closeup.
Click here to see ALL of our new arrivals! Save 20% with your subscriber coupon code DEC2012 in the COUPON box at the bottom of your CART page.

If you don't see the coupon box at checkout, just E-us info@ecrafty.com with the code or e-us with your ORDER number and code We'll apply your 20% savings as a refund to you when your order ships.

As always, have FUN, and happy creating! Hope to "see" you soon at eCrafty.com!